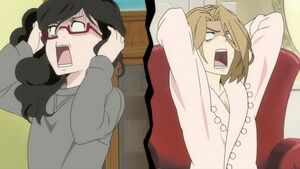 Xinil abandoned MAL on Wednesday. As a result, nobody in the world can update their lists. A little admin, Kineta, is the gatekeeper of the site. She has prepared for eventual death of the site. Later, a man who identifies himself as "SSJMaster, the 'MAL-eating Hacker'," which is coincidentally the name of Xinil's archenemy, arrives in MAL and deletes everybody's account. Just what is going on?

Summary borrowed from "Sunday Without God"

PLOT
(subject to change)
TWEEEEEST
(subject to change)
Ad blocker interference detected!
Wikia is a free-to-use site that makes money from advertising. We have a modified experience for viewers using ad blockers

Wikia is not accessible if you've made further modifications. Remove the custom ad blocker rule(s) and the page will load as expected.