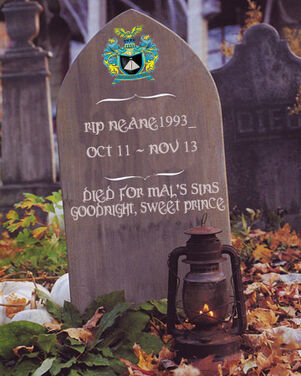 He's Neane, yo. He's a fake pregnant loli with silky skin and golden hair. Lives just down the street,
Elbows
There once was a man named Neane1993,
Who was Fetisher of the Elbows!
He had internet fame, club power, and poverty beyond your wildest dreams,
Before they hung him from the Rule 34 threads,
These were the final words he said,
"My porn stash is yours for the taking,
But you'll have to find it first,
I left everything I own... on One Hard Drive"
Ever since, Pervs from all over the world set sail for the interwebs,
Searching for One Drive,
The treasure that would make their wet dreams...come true!
Occupy MAL 2013
Neane became a symbol of hope and martyrdom when he braved the harsh waters, beat the odds, and stared death in the face during the Uber Army's war against the MAL owners over the tyranny of bad reviews. Neane sacrificed his life for the sake of many. He will never be forgotten.
To see the original article, go here.
Skills & Abilities
Neane's elbow touching skills are impeccable.
Stats
HP: 71, 439
Attack: 101 x ∞
Defense: 101 x ∞
Special Attack: 101 x ∞
Special Defense: 101 x ∞
Speed: 101 x ∞
Neane's Garden
Neane is the Uber Elitists' number one source for obtaining their daily ration of pot. Neane grows them every day in his massive garden within his 69-story condominium down the street.
Relationships
ihateeveryone
Is Neane's #1 customer when it comes to buying/selling pot.
AngelsArcanum
Neane slowly lifted his shirt to expose his nipples to AngelsArcanum while saliva slowly leaked out the corner of his petite squirrel mouth, whispering "It gets so freaky..." And then with the left hand slowly, but surely massaged Angel's elbows...
To be continued...
Quotes
- "Oh this reminds me, I need to go back to touching KoKo's elbows and getting peed on while telling me what a good little shota I am. I don't want him to cry for 15 minutes."
- "Nah, it's hormones. She got some empowerment if you know what I mean."
- "I love you guys (no homo)."
- "It's still erect."