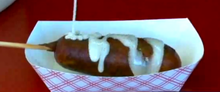 MrNipples has an extremely rare condition that makes his buttcrack extremely dry. Therefore, his doctor prescribed him 69 vials of premium grade Semen Butter, which needs to be applied to his crack once a day. MrNipples also applies Semen Butter to his nipples to keep them lubricated for his most well-respected clients.
Ad blocker interference detected!
Wikia is a free-to-use site that makes money from advertising. We have a modified experience for viewers using ad blockers

Wikia is not accessible if you've made further modifications. Remove the custom ad blocker rule(s) and the page will load as expected.