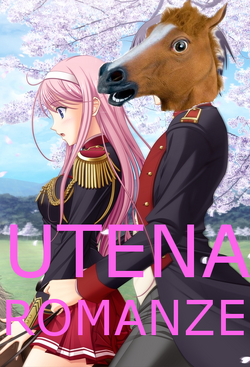 Utena Romanze is a harem novel written by Amberleh, in which she puts a new spin on the legend of Utena and her journey to find her prince and make his kokoro go dokidoki. It has been widely considered as the quintessential feminazi book by Feminist Fangirls and Alpha Males alike, deconstructing the harem genre and has gained a cult following among people with horse fetishes everywhere.
Plot
TBJOHJ'd
Reception
Utena Romanze has received praise for its very original retelling of the Utena legend and Amberleh's empowering portrayal of its main characters. Many critics have lauded the novel as the "quintessential" novel for feminazis everywhere, which gives them inspiration to write fanfiction of their own. Slateny Krubeck is rumored to be a fan of the novel..
Ad blocker interference detected!
Wikia is a free-to-use site that makes money from advertising. We have a modified experience for viewers using ad blockers

Wikia is not accessible if you've made further modifications. Remove the custom ad blocker rule(s) and the page will load as expected.