Utena x Kittytoe is an erotic novel written by the greatest mangaka author of all time, Matas. It is about Kittytoe's legendary exploits chronicling his conquering of many female strongholds during his lifetime.
The novel was well-received by critics and singlehandedly won the Best Erotic Novel Award for Children and Adults Alike, out of 69 total competitions (Bukkakemonogatari placing at a close second). The novel recently had a manga series greenlit and is also ongoing alongside the novels. AngelsArcanum is a known fan of the novel, citing how "freaky" everything gets, especially the "exhilarating chest cavity touching parts."
The novel's tagline reads: "Black Beet Kittytoe don't fuck around...unless he's fucking around."
Inspiration for Utena x Kittytoe
Matas has cited Amberleh as his biggest inspiration to create the universe around Utena x Kittytoe, and aimed to pen more side stories as soon as the main, epic saga of Kittytoe is finished. The mangaka also cited 69 Lightnesses of Purple and Utena Romanze as his other influences.
Volume 1: Black Beet Kittytoe
Volume 1 starts
in medias res
, covering a very lengthy saga of Kittytoe's adventures in MMO land. The rest of the story details the events that transpired between him and Utena.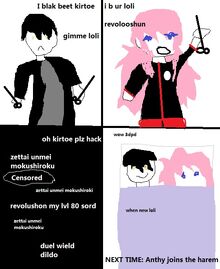 His conquering of Utena's female stronghold is the beginning of many female stronghold conquering in the next few decades; it is here that he earns the infamous nickname, 'Black Beet Kittytoe.'
Volume 2: Rose Bride Duel With Sandwich Girl For Black Beet
Coming soon